Story & History
Founded in 1978 as an engineering consultancy, F&M has rapidly grown, becoming a company at the cutting edge Presently, F&M Ingegneria has taken part in the realization of about 1,500 projects of different types and complexities. Our aim has always been the same: providing high quality services according to the Client's requirements and suggestions. F&M Ingegneria are a 250 people strong practice, 70 of whom are located in the main headquarters in Mirano, Venice, with the others located in satellite offices in Milan, Rome, Paris, Muscat, Cologne, Beijing, Dubai, Doha, Beirut, Podgorica, New York & Salalah. F&M Middle East office located in Muscat is considered the 3rd largest office in the company chain. On staff we have engineers, architects and technicians who use the most sophisticated instrumentation. In addition to this team, there are job supervisors and operating control managers who are permanently working on site. The aim of the people who work at F&M is to supply high quality services exceeding Client's expectations. We have one objective: to find the best solution by rationalizing and simplifying the most complex problems
1978
Favero & Milan Ingegneria was founded
2001
F&M Started Retail Sector at Germany
2012
F&m Opened its branch in Muscat,Oman
2013
Favero & Milan Ingegneria renamed to F&M Ingegneria
2015
F&M Retail Italia was Created
2015
F&M Oman Branch Become F&M Middle East
2018
F&M Divisione Impianti was created
2018
F&M Opened its Branch in Paris, France
F&M Middle East Company Structure
FEDERICO ZAGGIA
F&M Ingegneria Shareholder Representative
Federico Zaggia graduated with M.S. in Civil Engineering at the University of Padua, Italy and University of Swansea in UK. In 1999, he joined F&M Ingegneria Spa and in 2008 became a Partner in the Company. He has specific experience in the management of complex and large-scale projects, both in Italy and abroad, and he is responsible for the Project Management Department, dealing in particular with international Clients.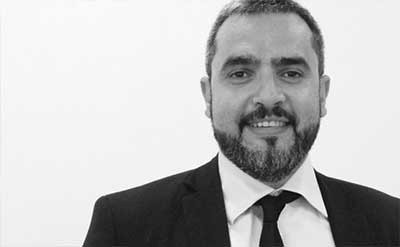 HAZEM ABDUL KARIM
Partner, Managing Director
Hazem graduated with M.S. in Civil Engineering with a Structural Orientation in 2004 from the University of Ferrara in Italy and a Post Graduate Msc in Special Foundation Design from the University of Bergamo in Italy and a Post Graduate MCom in Marketing and Business Development from the prestigious Bocconi University also in Milan Italy. More than 15 years of experience in Europe, North Africa and GCC countries, first as Structural designer being then a Design/Project Manager, and since 2009 as MENA Regional Manager Managing some of international projects of the Company and developing new business opportunities. Since 2015 Managing Director of F&M Middle East in Sultanate of Oman Muscat as a subsidiary company F&M Ingegneria in the Middle East Region.
SALIM BA OMAR
Partner
Salim Ba Omar received a Bachelors Degree in Architecture in 1989 from the University of Miami, USA. In 2001 he received a Master's Degree (M.Sc.) in Project Management, from University of Manchester UMIST. Salim has more than 25 years of experience in the field of Urban planning, Architecture and projects management. In 2015 Salim Ba Omar has become an active partner in F&M Ingegneria's Middle East office currently operating in Muscat, Sultanate of Oman . He worked in major governmental and development projects such as Salalah Free Zone, and held the position of Head of development committee in Dhofar Municipality in the Southern Region if the sultanate of Oman
F&M Ingegneria Partners
SANDRO FAVERO
F&M Ingegneria's Founder and Chief Executive
ALESSANDRO BONAVENTURA
Partner, Head of Construction Supervision and H&S Department
TOMMASO TASSI
Partner, Head of Infrastructures and Geotechnics Department
GIAMPAOLO LENARDUZZI
Partner, Head of Cost Consultancy Department
GISELLA RIZZI
Partner, Head of Milan Office
FEDERICO ZAGGIA
Partner, Head of Business Development and Project Management
F&M MIDDLE EAST TEAM
F&M team is technically excellent but more importantly is pro-active, creative, good communicator and is interested in the wider issues. We thrive on intellectual debate and creative collaboration both within the office and with other professionals.
Branches
A Constantly Evolution to Meet the Needs Of
Advance & International Clients